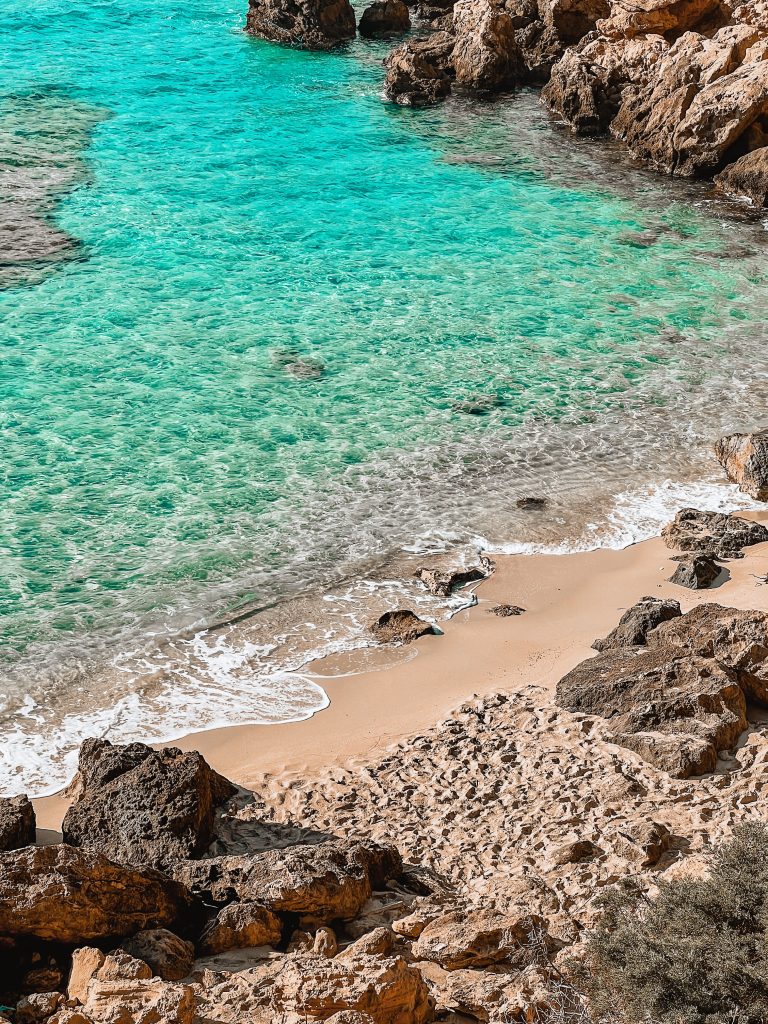 Ibiza is famous for its stunning coves and turquoise waters. However, with so many beaches to choose from and so many visitors arriving on the island as the summer season begins, it can be difficult to find one that offers both beauty and tranquillity. To help you make the most of your visit to Ibiza, we've put together a list of the most beautiful (and in some cases, least-known) beaches on the island.
CALA XARRACA
Located north of the island, Cala Xarraca is one of the island's most beautiful and secluded beaches. It is surrounded by lush greenery and towering cliffs, and in it you'll find crystal-clear waters and soft, sandy shores, making it a true hidden gem. Whether you're looking to soak up the sun, swim in the sea, or simply relax in a peaceful setting, Cala Xarraca is the perfect spot.
CALA BENIRRÁS
Also north of the island, we find Cala Benirrás, one of the most famous beaches in Ibiza, and no wonder why! This is the beach where all the island's hippies gather, and it is famous for its sunsets and drumming circles, which take place every Sunday evening. With its crystal-clear waters and epic sunsets, Cala Benirras is a true gem. Whether you're looking for a day of relaxation or a vibrant evening experience, Cala Benirrás has something to offer.
CALA MASTELLA
Near San Carlos, east of the island, we find Cala Mastella. This small and charming beach stands out for the beauty of its rocky edges, its natural environment, and the pine trees and reed beds that surround the entire cove.  The various plants, algae and large rock formations covering the sea bed make Cala Mastella an excellent place for all who love snorkelling.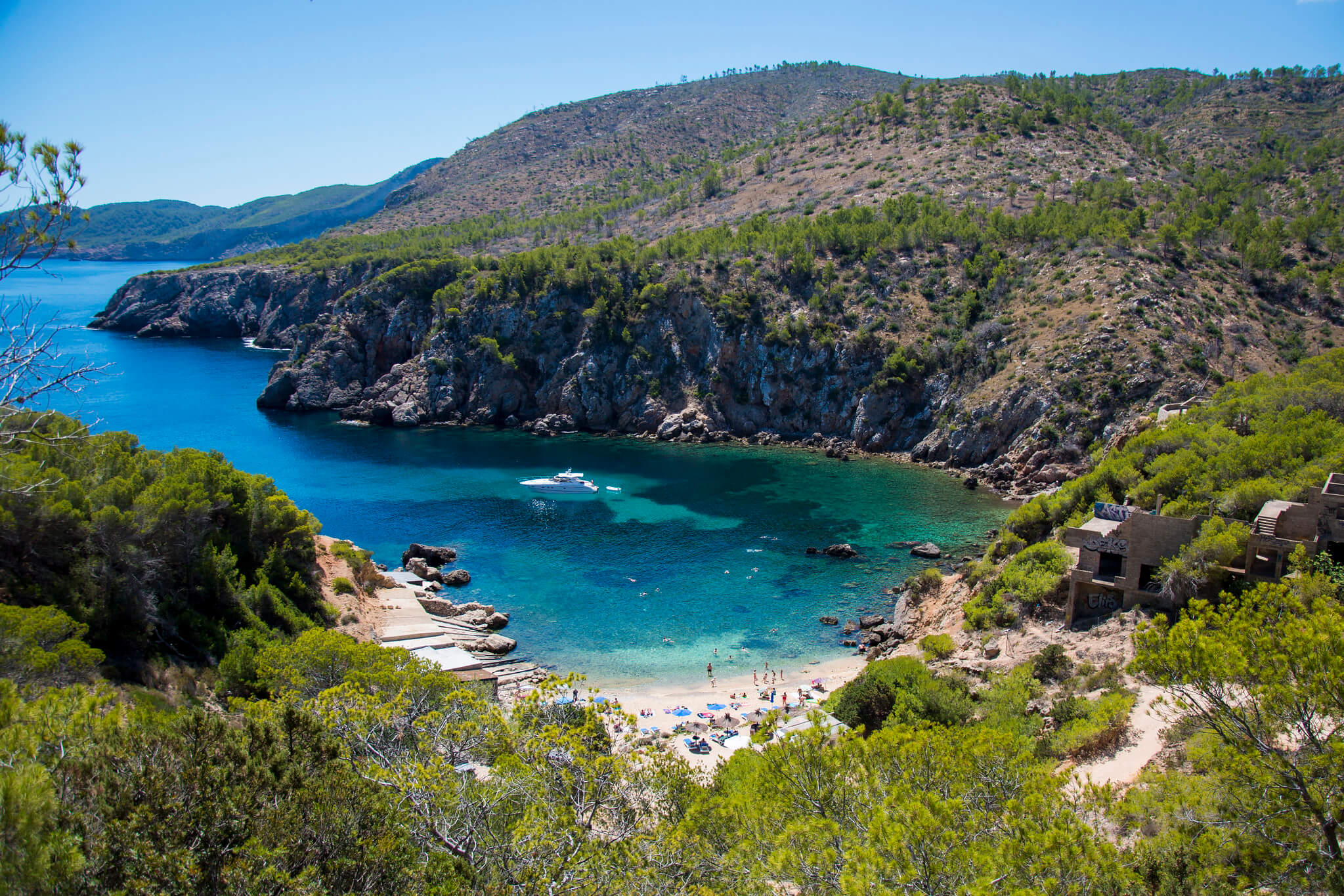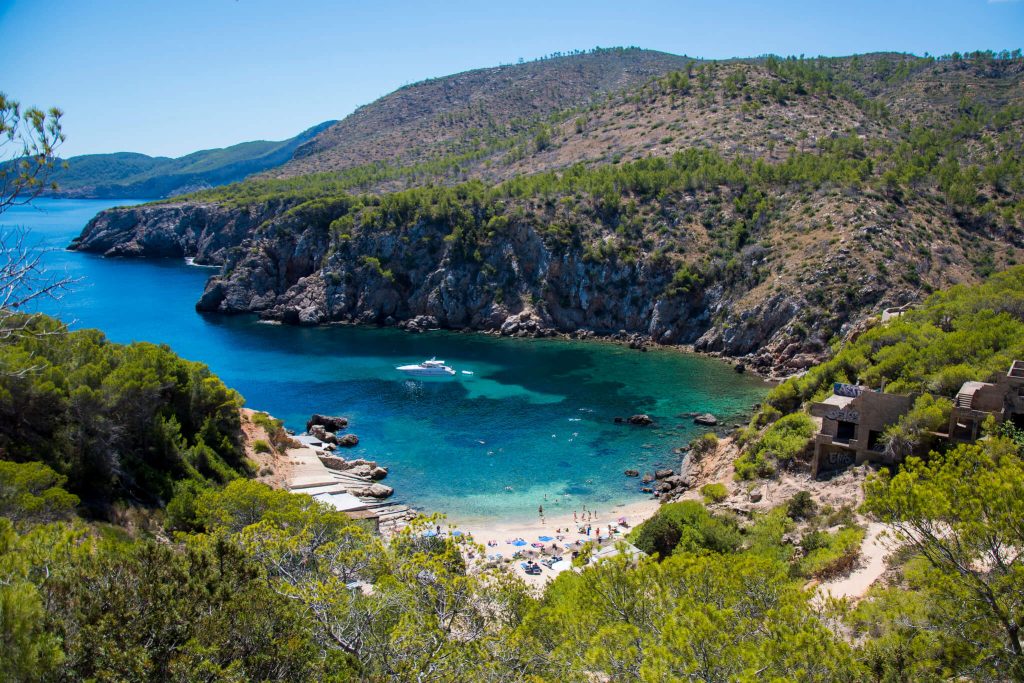 CALA COMTE
Without a doubt, Cala Comte is one of the most beautiful beaches in Ibiza. Its perfectly tranquil and turquoise waters, sandy sea bed, and spectacular views of the s'Illa d'es Bosc large islet will make you fall in love with Cala Comte at first sight. It also offers some of the most beautiful sunsets on the island, so whether visiting during the day or at sundown, this truly is a magical place. The only downside to this beach is that its beauty and perfection attract many visitors during the summer months, so if you're looking for solitude, head to Cala Comte early in the morning or during the colder months.
CALA D'EN SERRA
Lauded as the best beach north of the island, Cala d'en Serra is a small beach that will enchant you from the minute you set foot in it. Its stunning natural surroundings give way to vivid turquoise waters that are perfect for snorkelling, and the fact that is far from the island's densely populated areas makes it the perfect quiet beach to visit even during the busy summer months.
These are only a few of the magical corners Ibiza has to offer. If you'd like to discover more unforgettable beauty spots, check out our article on the places you cannot miss while in Ibiza.